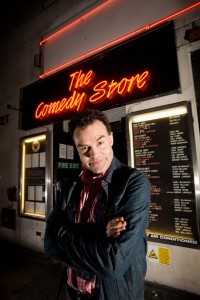 Neil Mullarkey is an actor, writer, director, improviser and management trainer. He runs communication workshops ImprovYourBiz.
In 1985 he founded Europe's top improv troupe the Comedy Store Players with Mike Myers.
He has been in two Austin Powers movies (International Man of Mystery and Goldmember). His other credits include Saturday Live, Whose Line Is It Anyway, I'm Sorry I Haven't A Clue, QI and Have I Got News For You.
His  alter ego, the satirical motivational guru, L. Vaughan Spencer won the Best Satire award at the Edinburgh Festival Fringe and has performed in theatres and at conferences across the world. His book Don't Be Needy Be Succeedy: The A to Zee of Motivitality is available in the UK now, and is released in North America on June 1st.